Production
VTF products are high-effective and safe. They meet all the requirements of Russian and international standards. The production uses raw materials from Russian and foreign suppliers, including those from Switzerland, Japan, and France.
Quality control
Our philosophy is strict compliance with quality and safety standards. All operations are performed only by highlyqualified specialists using state-of-the-art equipment. In the production facilities, optimal conditions have been created for the correct production processes.
The Company obtained Certificate
№ GMP/EAEU/RU/00602-2022 of the medicine manufacturer's compliance with the Rules for the Organization of Production and Quality Control of Medicines.
The VTF production safety management system meets the international standard ISO 22000:2005 (Certificate No. 18.0196.026 issued on August 21, 2018).
In our production facilities, we regularly conduct external, internal, and customer's audits.
Every month: external audit.

Proprietary analytical methods.

25,000 to 30,000 analyzes every year.
We purchase raw materials only from trusted manufacturers and suppliers. For the full list, see «Partners».
Control of raw materials prior to their use.
Our in-house control and analytical laboratory controls raw materials, intermediate production stages, and finished products.
high performance liquid chromatography,

spectrophotometry,

atomic absorption spectrophotometry,

IR spectrometry,
voltammetry,

titrimetry, polarimetry,

enzyme immunodetection,

thinlayer chromatography.
We employ only highly-qualified staff.
VTF employees have experience of work for leading industry enterprises.
The employees' qualifications are regularly upgraded.
Machine tools and machine lines from renowned brands are equipped with precision sensors providing 100% control of products at all production and packaging stages.
Respect of requirements and rules
Temperature and humidity conditions are strictly observed in the production facilities, air is cleaned, other parameters are controlled that affect production processes and the quality of finished products.
Products are transported by certified carriers. Special temperature conditions provide a reliable product protection.
Warehouses are divided into general and special storage areas (cool and cold sites).
Production areas
Making mixtures for tableting, encapsulating, or sachet-packing.

Allows to obtain mixtures using both the dry mixing method and wet granulation.

Our extensive experience with vitamins, minerals, and extracts, as well as careful selection of active components and excipients allow us to obtain homogeneous mixtures with different qualitative and quantitative parameters.

We use the most bioavailable and stable active substances allowed to use in the production of dietary supplements.

The quality of excipients meets to the main pharmacopoeias of the world.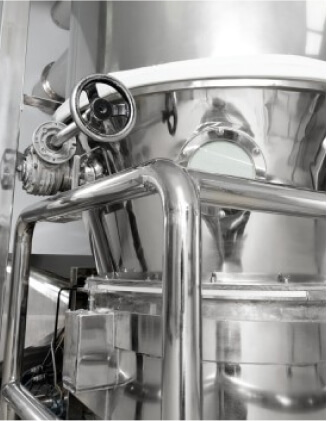 The area is equipped with high-performance equipment. For instance, a Korsh AG rotary tablet press (Germany) produces up to 300,000 tablets per hour.

We can manufacture products of various shapes (from flat-cylindrical to oval) and sizes (from 6 to 20 mm).

During the tableting, the tablet quality is controlled using automatic electronic systems such as an electronic laboratory assistant and a metal detector.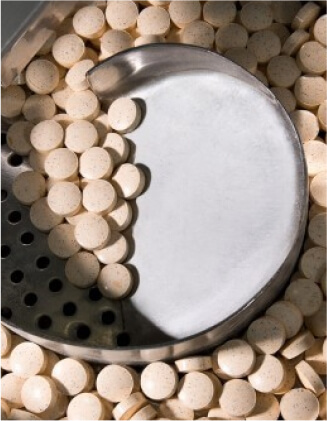 Mixtures are packed into hard gelatin capsules of various sizes.

We use various methods for putting the mixture into a capsule, which allows us to work with powders of various technological properties: from easily free-flowing and non-compressible to sticky and difficult to dose.

Each filled capsule passes through an empty capsule rejection machine and a metal detector.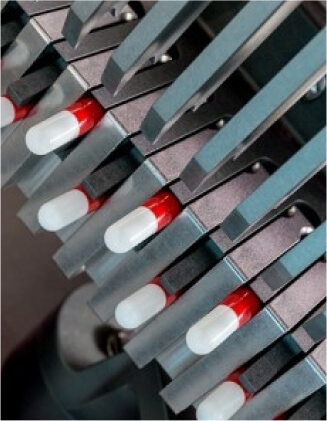 We can apply different types of tablet coating film: decorative, protective, or modified release.

We use water-based coatings only in line with the Company's fire safety and environmental protection policy.

A patented VTF development – a film coating with special moisture-proof properties – ensures the stability of compositions of any complexity based on vitamins, minerals, and plant extracts.

The film coating color is selected at the customer's request.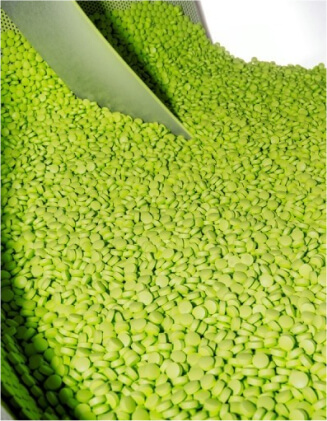 The powder packing speed is up to 13,000 single sachets per hour.

We can pack powders of different composition into double (duplex) and triple (triplex) sachets.

The maximum weight of packed powder is 25 g. This provides the convenience and accuracy of weighing compositions of various complexity.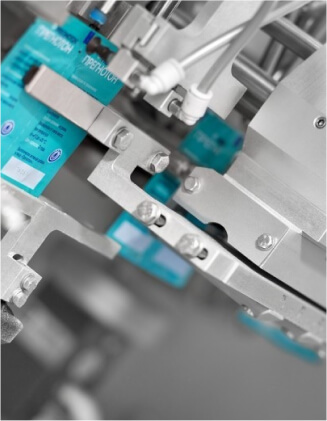 At the area, liquid non-sterile solutions are made and bottled.

We use methods of various complexity: from simple dissolution of components to preparation of complex microemulsion systems by temperature phase inversion.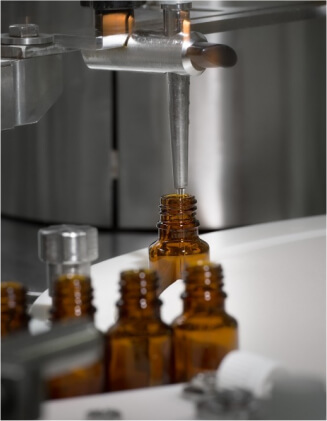 The area is equipped with a MEDISEAL production line (Germany), which allows us to fully automate the packaging of tablets and capsules – from primary packaging in a blister to group packaging.

Maximum capacity of one machine is up to 400 blisters per minute.

We can pack up to 3 different tablets (capsules) in one blister.

With our high-precision control systems of the packaging line, we check each piece of product for weight, appearance, printed and packaging materials compliance.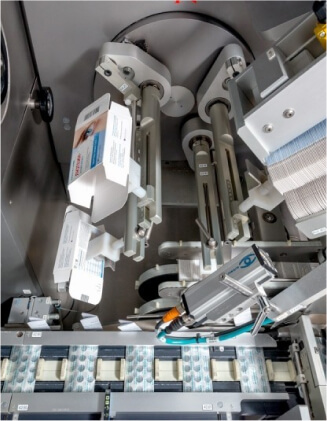 Production schemes